Healthy Eating From The Pantry
A pantry supplied with healthy food choices can help you to build nutritious meals when having to stay at home longer than expected. Use the Pantry Handout below to help get your grocery list started. Most of these items can be kept in your cupboard for a long time.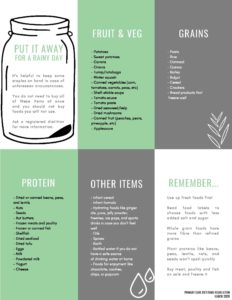 Pantry Handout – click to view
To help with some of your planning, Ottawa Public Health has created healthy cooking videos available on-line that focus on using pantry-ready items.  (https://www.ottawapublichealth.ca/en/public-health-topics/cooking-videos.aspx).
For a quick recipe idea check out the Easy Seafood Burgers. The recipe originates from The Basic Shelf Cookbook that is composed of low-cost nutritious ingredients that last for a long time in the cupboard without refrigeration.
For more information on easy recipe ideas, or to obtain more recipes from The Basic Shelf Cookbook, contact our Registered Dietitians at 613-332-1565:  Holly at extension 240 or Renée at extension 238.