Welcome!
The Bancroft Community Family Health Team (BCFHT) is made up of local family doctors working together with our team's Nurse Practitioners, Nurses, Dietitians, Social Workers, Chiropodist, Respiratory Therapist, Physiotherapist, Health promoters and Administrative staff to provide patients with complete health care.
Our team strives to ensure all our patients have the best possible care and promote healthy living.
Please note that during this time we are trying to limit the number of bodies in the clinic. We ask that if you need to drop off paperwork or something for your doctor's office or BCFHT staff, please put it in the DROP BOX located outside the main doors at the 19 Oak Street location.
---
WHEN YOU ATTEND AN IN-PERSON APPOINTMENT:
You must wear a surgical mask and sanitize your hands when entering the clinic and for the ENTIRE duration of your visit.
Please refrain from bringing others to your appointment with you, unless you require assistance.
No food or drink allowed in the clinic at this time

---
SPECIAL ANNOUNCEMENT
The Board of Directors of Hospice North Hastings and the Bancroft Community Family Health Team are very excited to announce a collaboration between our two organizations. We have entered into a shared leadership agreement that will strengthen the connection for patients, families, and caregivers between their primary care team and palliative care.
Sandra McGrath, Executive Director of the BCFHT will be overseeing the coordination of our palliative patient services as an expansion of her current role with the Family Health Team. The Hospice Board is grateful to Virginia Plunkett who has stepped in as Director of Hospice Services during this time of transition. Virginia will remain as Director of Hospice Services for a period of time as we work through these changes in our organization. We are also happy to welcome Dr. Alexander Ferreira as our Medical Director and Mallory Kelly, RN as our Nurse Palliative Care Manager. Mallory will be working with Hospice and the Family Health Team to provide smooth transitions between primary care and palliative care.
Hospice wants to recognize all the hard work of our Board Members and volunteers, and we look forward to working together during this new chapter for our team.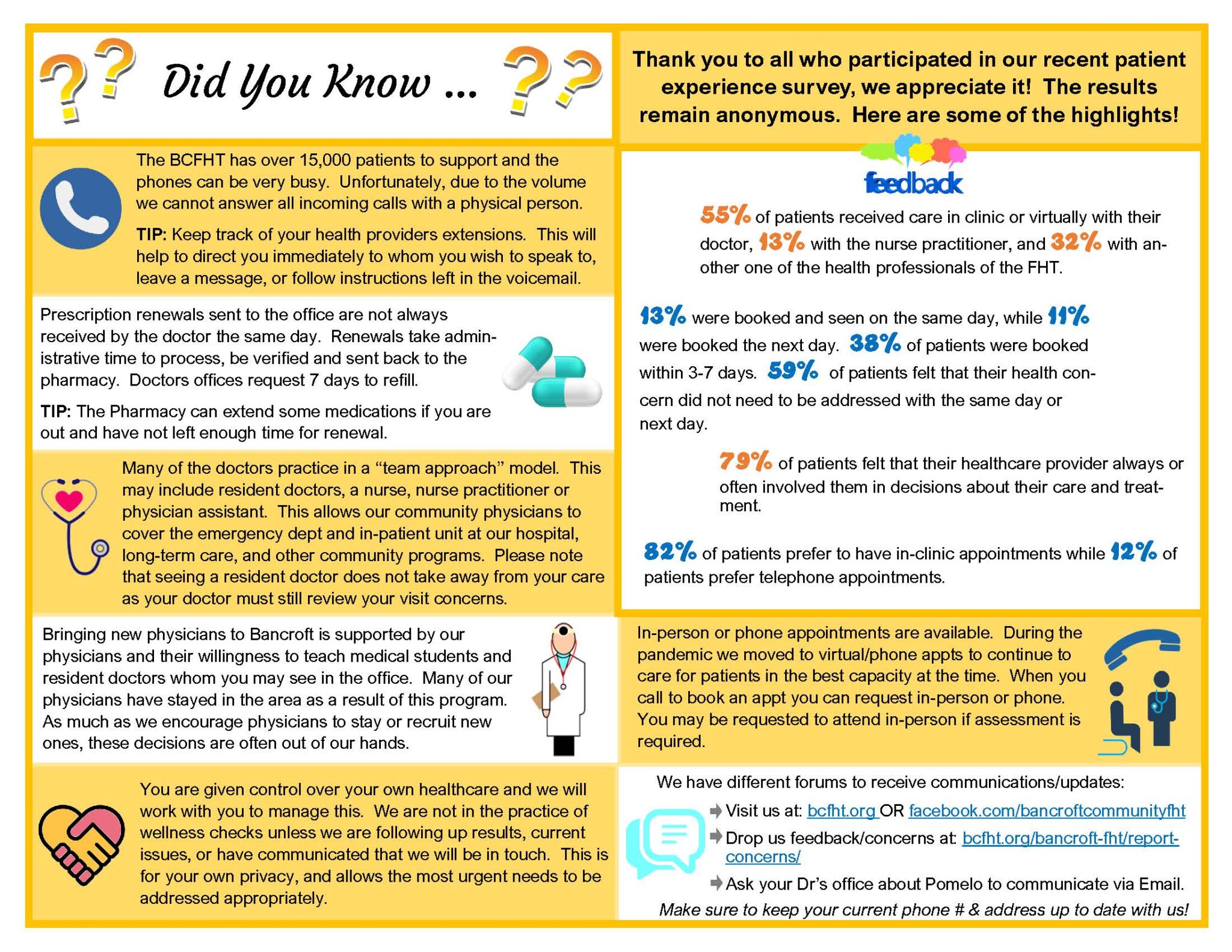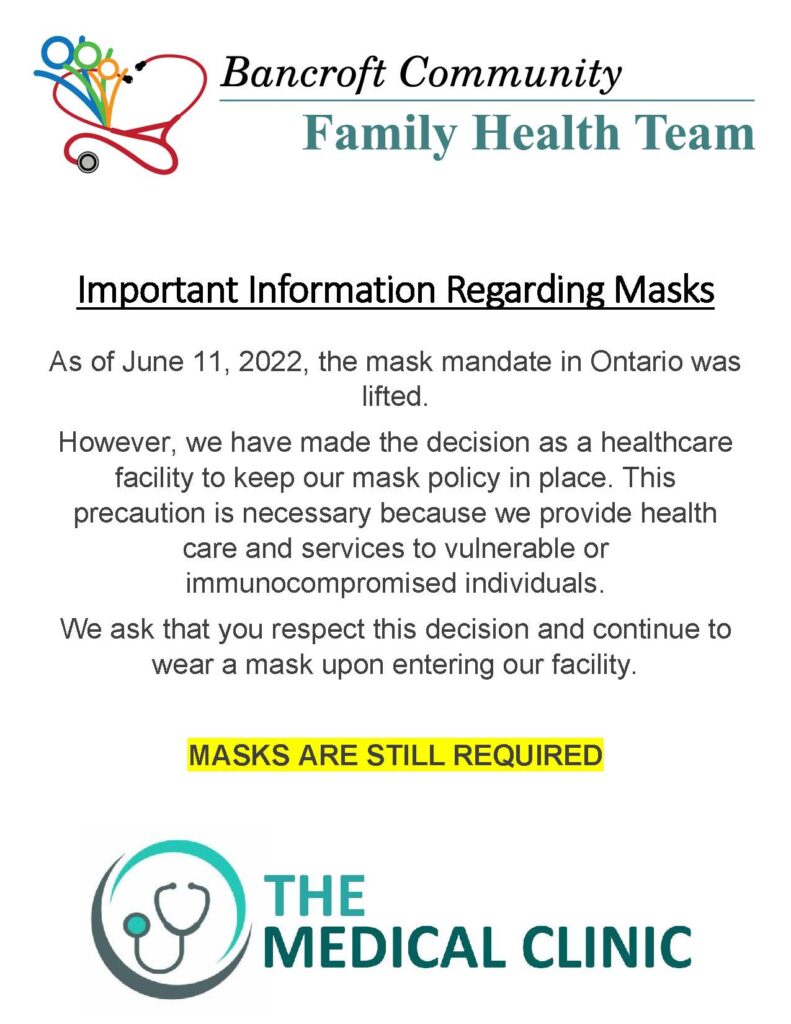 See COVID-19 Information tab for COVID clinics and resources.
The Bancroft Community Family Health Team will continue offering COVID-19 vaccines in the coming months for anyone who requires it. They will be available by appointment only,
please call 613-332-1565 ext. 220 to book. 
In 2019 the Bancroft Community Family Health Team and Bancroft Fitness entered joint leadership. The shared leadership allow us to be more sustainable in a community where gyms struggle to survive.
As a not-for-profit gym, this is something that makes us unique. All monies generated including donations will be put back into the gym for programs and equipment.
You can visit the Bancroft Fitness website for more information, or find them on facebook.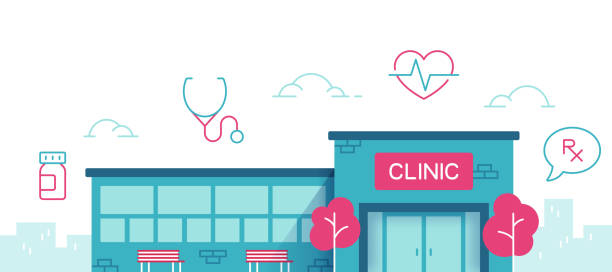 ---
---

Doctors Brown, Griffin, Fransky, Ferreira, Gerasimoff, Blanchard, Keila, Noltie, & Ahearn
---
Notice for Dr. White patients – March 23, 2022
Dr. White's primary care practice will be ending on March 31, 2022.  If you are a patient of Dr. White's please see below for instructions after March 31.
How to get a copy of your chart:  You must request a copy of your chart before March 31, 2022.  REQUEST YOUR RECORDS HERE. If you are on the waiting list with our team, your chart can remain with us until you are accepted by a new physician, there is no need to request a copy of your chart unless you are seeking a primary care provider elsewhere or would like a copy for your records.
Specialist referrals and outstanding tests:  We will be tracking these for a short period (6 months) to support you.  You may be asked to follow up with a specialist if we haven't heard about your appointment.  You will be given instructions on how to do this. You may have to navigate your own care for some time and communicate directly with your specialists.  
If you are having an emergency: Call 911 or go to your nearest hospital.  Consider bringing your records if you have requested a copy. 
Options for primary care:
Visit an online virtual care provider: Rocket Doctor, Virtual Dr, Inkblot Therapy, TiaHealth, Virtual Clinics, LiveCare, Maple, Tulip Health, Babylon, Cover.
If it is a short-term acute item, see if you can get an appointment with the NP at the FHT.  Call 613 332 1565 x 220.  The NP at the FHT cannot be your primary care provider and will only be providing appointments for acute short-term items and not chronic health conditions.  Our Diabetes Team is available to the community and diabetes patients will still be able to access diabetes care.
Visit HealthCare Connect to see if there is another doctor accepting patients.  
There are doctors in most urban areas taking patients.  You could consider if the drive is worth it for you, especially if you are willing to do virtual and telephone appointments. 
If you are pregnant, you can call Midwifery Services of Haliburton at 705-657-9992.