Due to the COVID-19 – All Professional appointments will continue to be PHONE CALL ONLY until further notice.
*Some exceptions will apply*
We will continue to offer Chiropody and Diabetic Footcare.
This does not include appointments with your Family Physician. Please call to speak with your doctors receptionist if you require an appointment.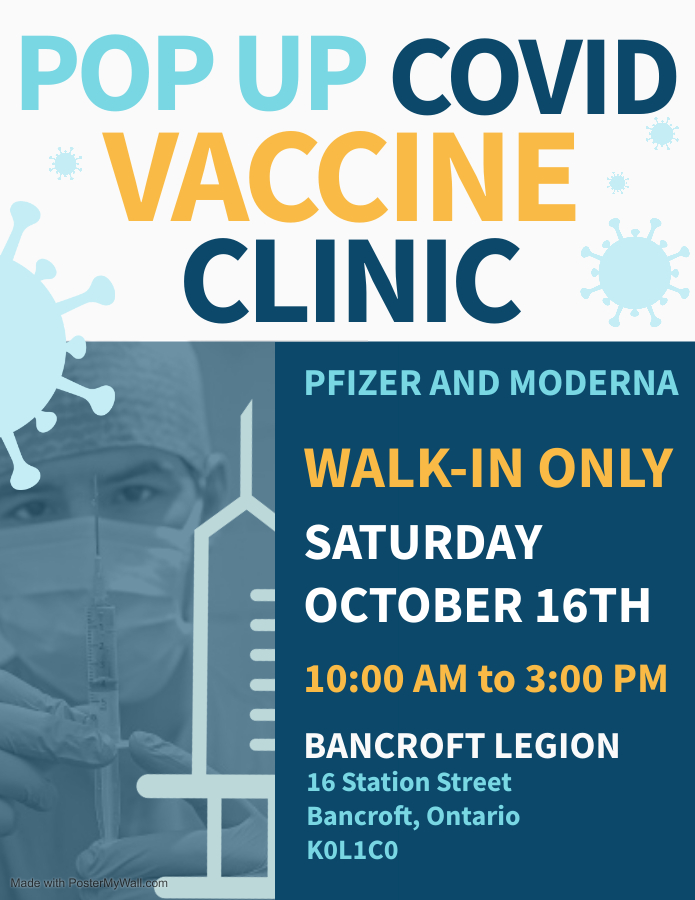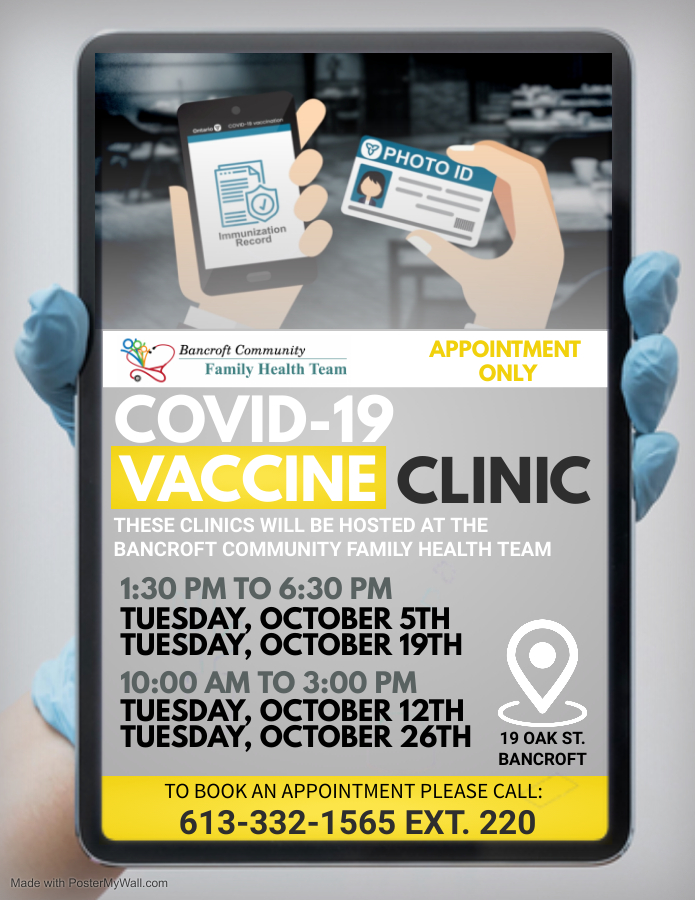 COVID-19 vaccination
Use this system to verify your identity, book your vaccination appointments and download your vaccination receipts.
To book you must:
be turning 12 years old before the end of 2021
have a green photo health (OHIP) card (you will need numbers on both sides of the card, expired cards will be accepted)
have an email address (or you can use the email of the person helping you)
Please note:
People aged 12 or older are eligible for an accelerated second dose interval

Youth between the ages of 12 and 18 are eligible only for the Pfizer COVID-19 vaccine

You will receive an mRNA vaccine (either Moderna or Pfizer) at the clinic depending on supplies and age eligibility. If you had Moderna or Pfizer for your first dose and are over 18+ years, you can safely take either Moderna or Pfizer for your second dose for strong protection against COVID-19. If you had AstraZeneca for your first dose you can safely take either Moderna, Pfizer or AstraZeneca for your second dose for strong protection

Individuals who received the AstraZeneca vaccine can book a second dose appointment that is eight or more weeks after their first dose, with informed consent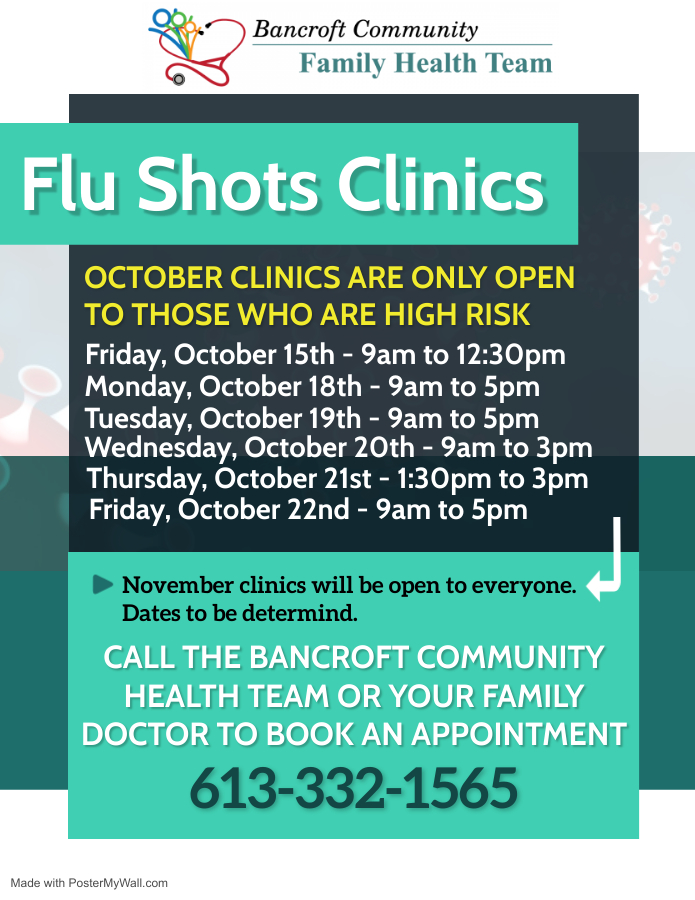 ---
FLU SHOTS
Who is High Risk?
*Individuals at high risk of influenza-related complications or who are more likely to require hospitalization:
All pregnant women
People who are residents of nursing homes or other chronic care facilities
People ≥ 65 years of age
All children 6 to 59 months of age
Indigenous peoples
Adults or children 6 months of age and over with chronic health conditions as follows:

Cardiac or pulmonary disorders
Diabetes mellitus or other metabolic disease
Cancer
Conditions or medication which compromise the immune system (due to underlying disease, therapy or both
Renal disease
Anemia or hemoglobinopathy
Neurologic or neurodevelopment conditions
Morbid obesity (body mass index of ≥ 40)

Children and adolescents (6 months to 18 years) undergoing treatment with acetylsalicylic acid for long periods
*Health Care Providers
---

COVID-19 TESTING
You can now go to the Quinte Health Care North Hastings (QHC NH) Assessment Centre and be tested for COVID-19. Testing is also available to asymptomatic persons who are concerned that they may have been exposed and people who are at risk of exposure through their employment. To get tested you can call the COVID hotline at 613-961-5544 or locally at 613-332-2825 ext. 6224. Patients should still make an appointment to be screened in Bancroft and should not just walk-in to the Assessment Centre.
PLEASE NOTE: The Bancroft Community Family Health Team is NOT a testing centre. 
Welcome!
The Bancroft Community Family Health Team (BCFHT) is made up of local family doctors working together with our team's Nurse Practitioners, Nurses, Dietitians, Social Workers, Chiropodist, Respiratory Therapist, Physiotherapist, Health promoters and Administrative staff to provide patients with complete health care.
Our team strives to ensure all our patients have the best possible care and promote healthy living.
During this time, with the entire community pulling together to contain the spread of COVID-19, the BCFHT would like to share with you how we are managing upcoming appointments. It is extremely important at this time that you do not come to your doctor's office or to the BCFHT without an appointment – CALL FIRST! If you need to drop off paperwork and something for your doctor's office or BCFHT staff, please put it in the DROP BOX located outside the main doors at the 19 Oak Street location.
Please note that during this time our phone lines will be busy. We ask for your patience and that you leave only one voicemail message. We will get back to you. Some of the doctor's offices offer an email alternative. Please check with your individual receptionists regarding setting this up.
The Bancroft Community Family Health Team and Physicians have made the following changes to our operations due to the COVID-19 pandemic:
All appointments with physicians and Family Health Team staff will be done by phone or video unless you have been notified that your appointment is in-person.
Please ensure that you are available at the time of your appointment by phone.
If you have been notified of an in-person appointment and you start to experience any COVID-19 or flu like symptoms, YOU MUST call and report them to our office before your scheduled appointment.
If you are running out of medication, please ask your pharmacist to fax the clinic or use the form on our website to request your prescriptions. The renewal fee will be waived at this time.
Do not attend the office unless you have an in-person appointment booked.
We have an outside drop box for paperwork.
WHEN YOU ATTEND AN IN-PERSON APPOINTMENT:
You will be screened at the door when you arrive.
Please try to attend the clinic as close to your scheduled appointment time as possible or you may be asked to wait outside.
You must wear a surgical mask and sanitize your hands when entering the clinic and for the ENTIRE duration of your visit.
Try to stay 2m (6ft) away from other people.
You can elect to wait in your car if you wish or outside on one of our new benches. Please notify the door screening person.
Do not touch any surfaces.
Do not bring family members or friends, if you need assistance you may bring one person
No food or drink allowed in the clinic at this time.
Please do not bring unnecessary items into the clinic such as bags, purses, backpacks, etc.
GENERAL PRECAUTIONS:
Wash your hands often with soap and water, or use hand sanitizer.
Avoid touching your eyes, nose, and mouth unless you have just washed your hands.
Cover your cough and sneeze with a tissue or into your arm, not your hand.  Also, make sure to wash your hands afterward.
IF YOU HAVE ANY OF THE FOLLOWING:
Fever
Cough
Shortness of breath
Ear pain
Flu like symptoms
New smell or taste disorder
Nausea, vomiting, diarrhea, abdominal pain
Close contact with a confirmed or suspected COVID-19 case
You or someone close to you travelled outside of Ontario in the last 14 days
You reside in a red or grey zone (If you are unsure what zone you are in, please click on the link https://covid-19.ontario.ca/zones-and-restrictions)
 DO NOT ATTEND AN APPOINTMENT AT OUR OFFICES. 
Please call the office and speak to a nurse to be screened.