Welcome!
The Bancroft Community Family Health Team (BCFHT) is made up of local family doctors working together with our team's Nurse Practitioners, Nurses, Dietitians, Social Workers, Chiropodist, Respiratory Therapist, Health promoters and Administrative staff to provide patients with complete health care.
Our team strives to ensure all our patients have the best possible care and promote healthy living.
If you need to drop off paperwork or something for your doctor's office or BCFHT staff, please put it in the DROP BOX located outside the main doors at the 19 Oak Street location.
---
WHEN YOU ATTEND AN IN-PERSON APPOINTMENT:
You must wear a surgical mask and sanitize your hands when entering the clinic and for the ENTIRE duration of your visit.
Please refrain from bringing others to your appointment with you, unless you require assistance.
No food or drink allowed in the clinic at this time.
As a healthcare facility we will be keeping our mask policy in place. This precaution is necessary because we provide health care and services to vulnerable or immunocompromised individuals. We ask that you respect this decision and continue to wear a mask upon entering our facility.
We at the Bancroft Family Health Team would like your feedback about your experiences with care.  Please click this link: Patient Experience Survey 2023 to complete our survey about Patient Experience.  By completing the survey you are providing consent for your answers to be used for quality improvement purposes.  Results are anonymous and confidential, we are unable to track who has completed the survey.  The survey is closing February 23rd.
https://www.surveymonkey.com/r/T78RZHC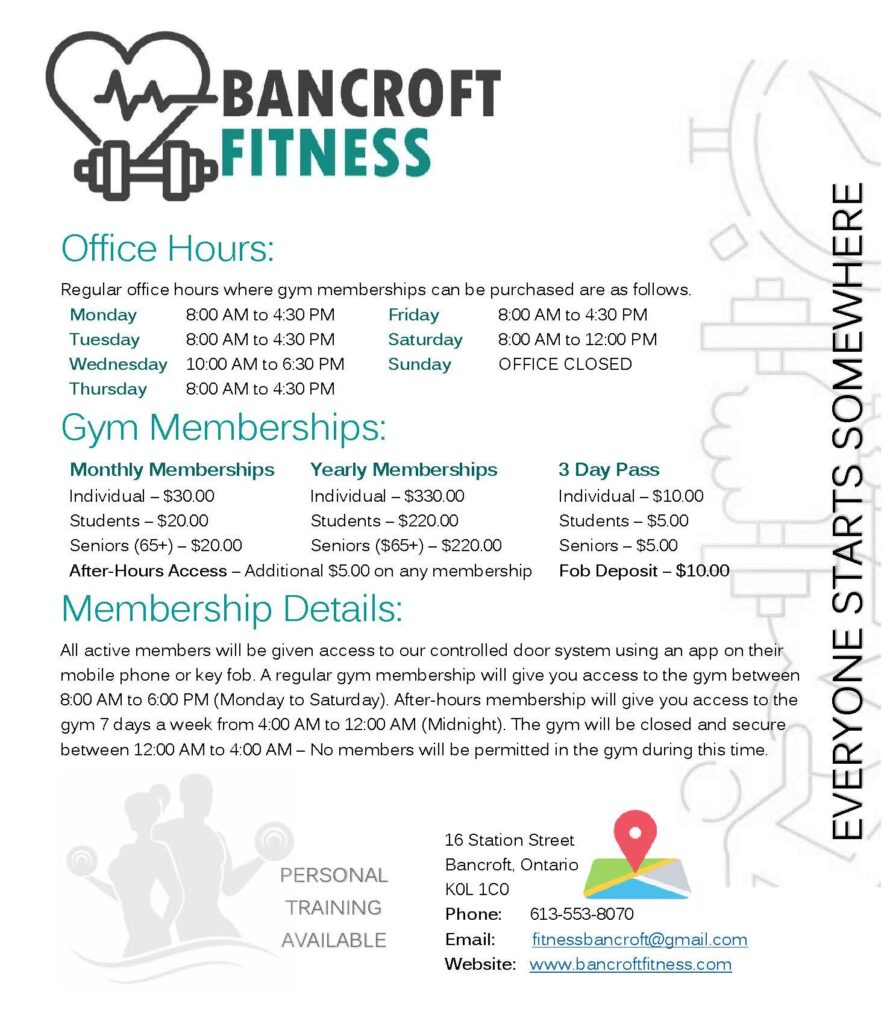 In 2019 the Bancroft Community Family Health Team and Bancroft Fitness entered joint leadership. The shared leadership allow us to be more sustainable in a community where gyms struggle to survive.
As a not-for-profit gym, this is something that makes us unique. All monies generated including donations will be put back into the gym for programs and equipment.
You can visit the Bancroft Fitness website for more information, or find them on facebook.