Welcome!
The Bancroft Community Family Health Team (BCFHT) is made up of local family doctors working together with our team's Nurse Practitioners, Nurses, Dietitians, Social Workers, Chiropodist, Respiratory Therapist, Health promoters and Administrative staff to provide patients with complete health care.
Our team strives to ensure all our patients have the best possible care and promote healthy living.
If you need to drop off paperwork or something for your doctor's office or BCFHT staff, please put it in the DROP BOX located outside the main doors at the 19 Oak Street location.
---
WHEN YOU ATTEND AN IN-PERSON APPOINTMENT:
You must wear a surgical mask and sanitize your hands when entering the clinic and for the ENTIRE duration of your visit.
Please refrain from bringing others to your appointment with you, unless you require assistance.
No food or drink allowed in the clinic at this time.
As a healthcare facility we will be keeping our mask policy in place. This precaution is necessary because we provide health care and services to vulnerable or immunocompromised individuals. We ask that you respect this decision and continue to wear a mask upon entering our facility.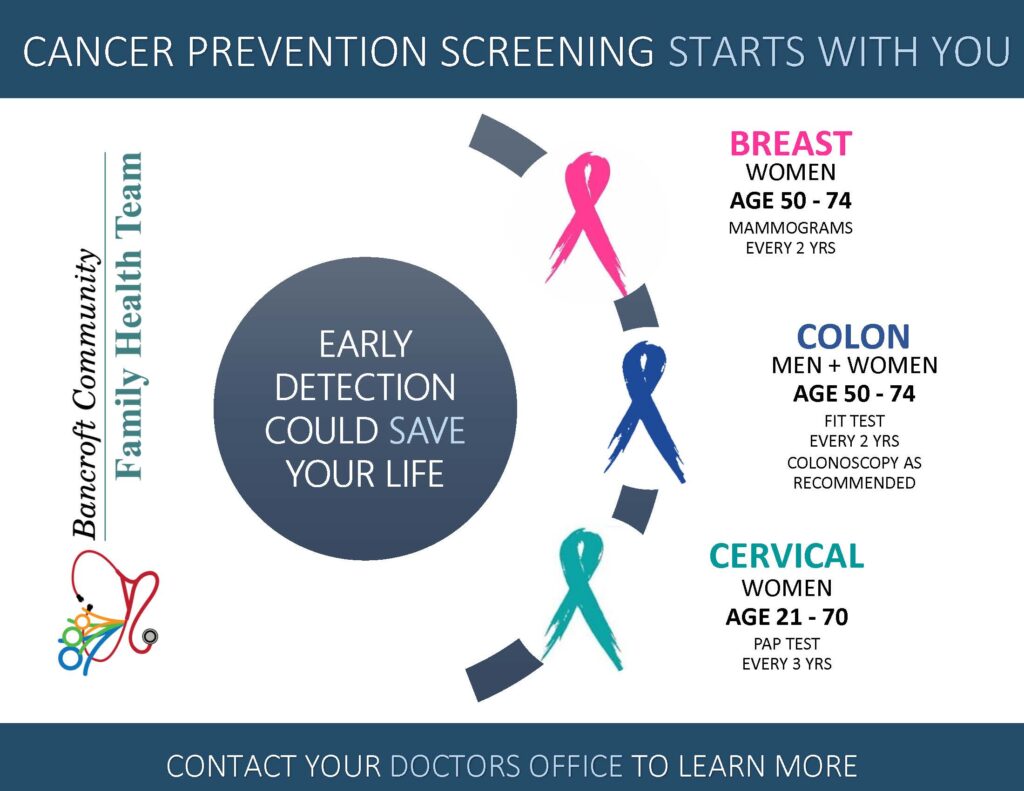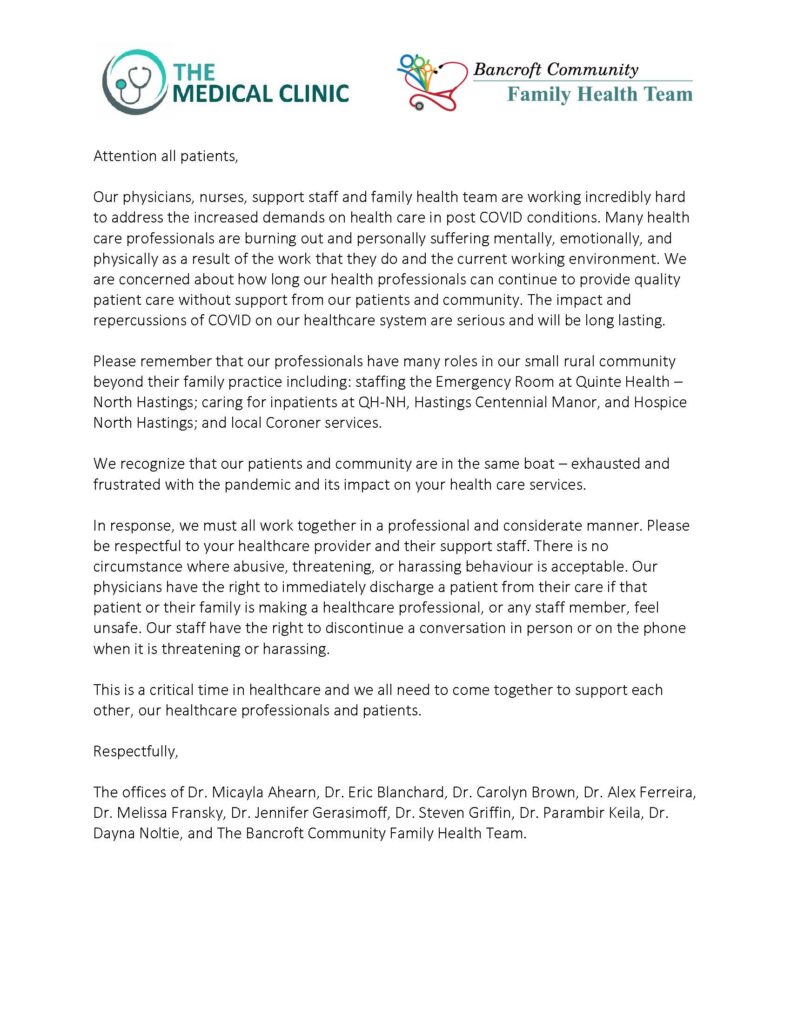 SPECIAL ANNOUNCEMENT
The Board of Directors of Hospice North Hastings and the Bancroft Community Family Health Team are very excited to announce a collaboration between our two organizations. We have entered into a shared leadership agreement that will strengthen the connection for patients, families, and caregivers between their primary care team and palliative care.
Sandra McGrath, Executive Director of the BCFHT will be overseeing the coordination of our palliative patient services as an expansion of her current role with the Family Health Team. The Hospice Board is grateful to Virginia Plunkett who has stepped in as Director of Hospice Services during this time of transition. Virginia will remain as Director of Hospice Services for a period of time as we work through these changes in our organization. We are also happy to welcome Dr. Alexander Ferreira as our Medical Director and Mallory Kelly, RN as our Nurse Palliative Care Manager. Mallory will be working with Hospice and the Family Health Team to provide smooth transitions between primary care and palliative care.
Hospice wants to recognize all the hard work of our Board Members and volunteers, and we look forward to working together during this new chapter for our team.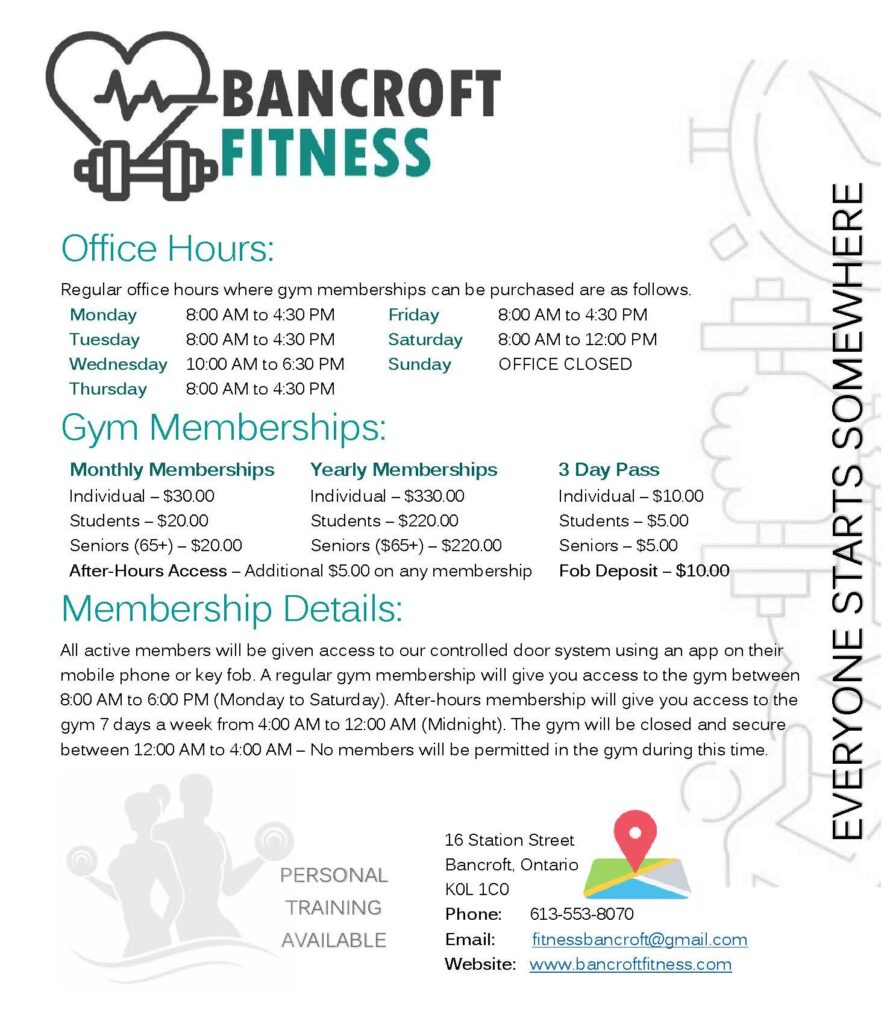 In 2019 the Bancroft Community Family Health Team and Bancroft Fitness entered joint leadership. The shared leadership allow us to be more sustainable in a community where gyms struggle to survive.
As a not-for-profit gym, this is something that makes us unique. All monies generated including donations will be put back into the gym for programs and equipment.
You can visit the Bancroft Fitness website for more information, or find them on facebook.