COVID-19 TESTING
The Bancroft Community Family Health Team is not a COVID-19 testing center. 
All COVID-19 testing is done at Quinte Health Care North Hastings (QHC NH) Assessment Centre. Individuals are encouraged to schedule an appointment by using one of the avenues listed below prior to reporting to the hospital. 
Call the COVID hotline at

613-961-5544

or locally at

613-332-2825 ext. 6224

Pre-register for an appointment at https://www.qhc.on.ca/pre-register-for-covid-assessment-centre-bellevilletrenton-only.php , once registered they will contact you with an appointment. 

Download your enhanced vaccine certificate
You'll need your proof of COVID-19 vaccination to access certain businesses and settings.

To access these businesses and settings with your proof of vaccination, you must wait at least 14 days after getting your final dose (when you are considered fully vaccinated).
For more information, visit Ontario.ca/proofofvaccination.


What you'll need – Green photo health card
Expired cards are accepted.

You'll need the numbers from both the front and back of the card.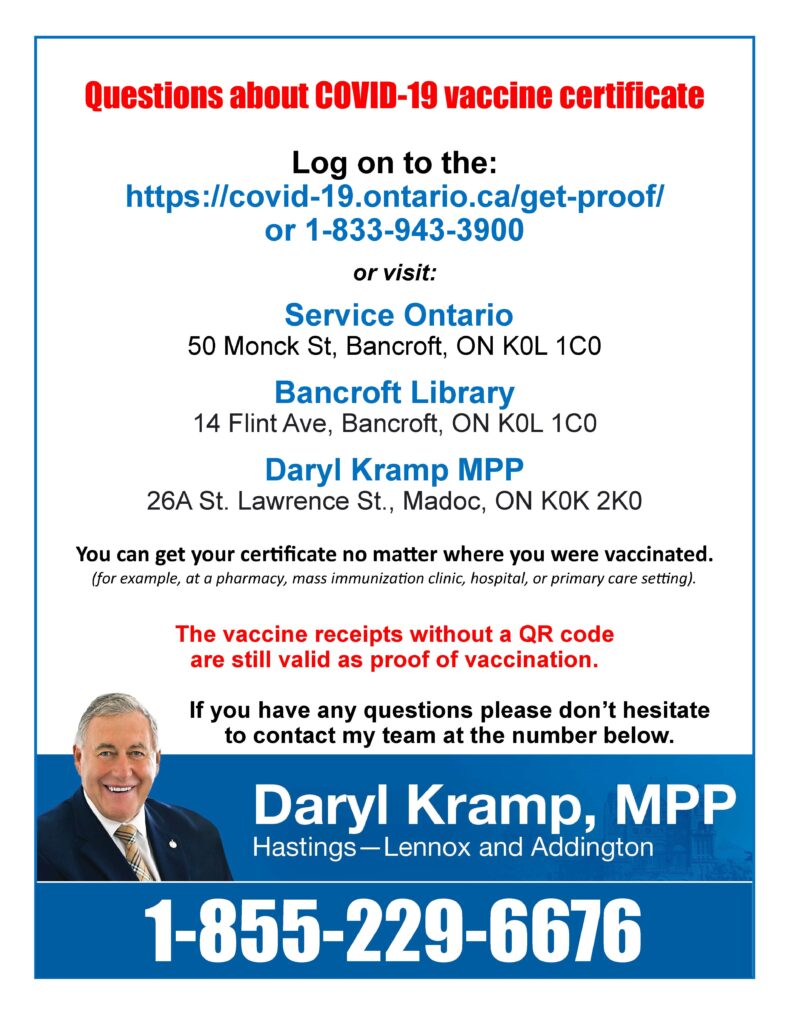 COVID Vaccine Exemptions
The Ontario and federal governments have recently announced new requirements for proof of COVID vaccination in certain settings.  As a result, your family doctors and primary care providers have started to receive requests for proof of medical reasons to be excused from requiring a COVID vaccination.
Please understand that, although there may be many reasons people may choose not to get vaccinated, as physicians and primary care providers we can only provide documentation with regards to established medical contraindications that make it inadvisable due to significant health risk.  Currently, there are only two circumstances that may warrant a medical exemption to the COVID-19 vaccine. 
An allergist/immunologist-confirmed severe allergy or anaphylactic reaction to a previous dose of a COVID-19 vaccine or to any of its components that cannot be mitigated.  Please note that even when an allergy is present, the vaccine can often be safely administered in a controlled setting.  As such, a medical exemption may require consultation with an allergist to confirm whether or not the vaccine can be given.
A medically confirmed episode of myocarditis or pericarditis (which is extremely rare) after receipt of an mRNA vaccine.
Given the rarity of these exceptions, and in light of the fact that vaccines have been proven to be both safe and effective, notes will only be written for patients who qualify for a medical exemption based on the criteria above. 
We understand that many of you still have concerns or questions about the COVID vaccine or about symptoms that you experienced after a first dose.  We are happy to talk through your concerns and questions with you.  If you have any concerns or wish to discuss a COVID vaccine exemption with your physician, please call your physician's office to book a phone appointment.
Mask Exemptions
In Ontario, it is mandatory to wear masks in indoor public spaces including physician's offices and healthcare settings.  For patients that decline to wear a mask, we can offer virtual care or phone appointments if appropriate.
Our physicians can only supply mask exemption letters in very rare cases where it is clinically indicated based on objective clinical information.  If you have concerns, please contact your physician's office to book a phone appointment.
Please Note:
Asthma and COPD (including chronic bronchitis and emphysema) are not contraindications to mask wearing.  Having asthma and COPD may put you at higher risk of complications from COVID and make wearing a mask that much more important. 
Patients wearing oxygen can wear a mask over top of their nasal cannula.  It does not impair your ability to continue to wear oxygen or lower oxygen levels.
Discomfort caused by the mask is not an exemption.
If you choose to not wear a face covering and do not qualify for a mask exemption, we recommend that you:
Try different types of masks and different materials until you find one you feel is more tolerable.
Try using a mask for short periods of time around home, slowly increasing the duration of wear until you can tolerate it's use.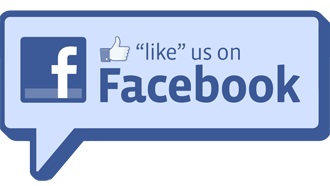 SOCIAL MEDIA UPDATE:
"It has come to our attention that the COVID Bancroft Facebook page has a post claiming that it is run by a doctor.
As Executive Director of the Bancroft Community Family Health Team I can confirm that NONE of our physicians are affiliated with or run this page.
In October 2020 Dr. Carolyn Brown sent a COVID update to various media including the COVID Bancroft Facebook page.
For accurate information about local COVID cases please consult the Hastings & Prince Edward Public Health website at
As cases rise in the province we need to continue to be vigilant. Wear a mask, wash or sanitize your hands, maintain 6 feet physical distancing, and download the Canada COVID Alert app.
If you are ill please stay at home and arrange to get tested. Call 613-332-2825 Ext. 6224 to book an appointment to get tested."
– Sandra McGrath, Executive Director of the Bancroft Community Family Health Team